The BPS Interview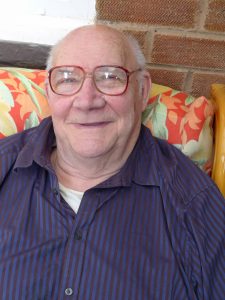 Dave Riddle
30th March 2017
What is/was your full time occupation?
I have had a number of occupations. I have been a Merchant Seaman (Bosons' mate), wood machinist and hydraulic fitter.
When did you first become interested in photography?
I was about 10 years old. My Mother had a Kodak Box Brownie which she brought out on family occasions and I took some photographs with it.
Photography became a means to an end with my interest in natural history. I was a country boy. During WW2 I went on visits to my Grandmother in her farmhouse in Gloucestershire for five weeks at a time. I learnt a hell of a lot about nature but I didn't start to take serious photographs until I went to sea.
Is there a photographer that inspired and influenced you and you would have liked to have been able to spend a day with?
I have been out and about with a lot of top photographers. The man that I have spent the most time with taking photographs is my good friend Mick Wilkes.
Is there one photograph by anyone in the past that you especially admire?
I have no real heroes. I like all good photographs. I have a small number of photography books from the turn of the last century by photographers such as Eric Hoskins and the Reverend Salmon. They provide good information on how the photographs were taken.
What was your first camera and how did you come to buy it?
When I went to sea around 60 years ago, the ship called in to Venice. There I bought an Italian camera which was a Bencini Comet. It was a half frame camera which took two pictures for each 35mm frame on the film. At the time Boots also sold them in England.
I moved up to an Ilford Sportsman rangefinder in order to start on taking nature photographs. I also owned a late 1950's two and a quarter square twin lens reflex which was similar to the Rolleiflex. Then I went in for movies with a Eumig Standard 8 camera. I was powered by clockwork and had three lenses mounted on turrets. I had two Russian 35mm cameras, a Zorki 4 rangefinder and a Zenit E SLR. After those I moved on to Olympus and Canon.
Which camera have you owned that you have a special affection for?
I had the Olympus OM1 and OM 2 which were very fine cameras and lenses. I also had an OM4 which had TTL metering which took the guesswork out of fill in flash.
When I was in Wales one day with the OM4 and a 400mm lens, I slipped on a waterfall and broke the camera body and didn't do the lens much good. Due to short supplies of the OM4 at that time I moved over to Canon. All were film cameras.
What is your current camera(s) and lens(es) set up and how long have you had it?
I don't change my camera equipment very often. My current set up is:
Canon 7D crop 18m sensor camera with a Sigma 105mm Macro. I also have 18-55 mm and 20-80mm Canon lenses. I have a Tamron 75-300mm a Sigma 175 – 500mm and 1.4x and 2x lens converters and a Pixapro flashgun. I have 2 extra bodies, a Canon 20D and 100D.
I have a Fuji Bridge camera with a zoom lens up to 700mm used mainly for movies and a small Sony pocket camera.
I seldom use a tripod.
What is your typical kit set up for a day out?
For butterflies it would be the 7D and the 105mm Macro lens plus the flashgun.
For birds I would take the 7D again but with the 75-300m and the 175-500 lenses.
What camera would you currently like to own if it was possible?
My 7D is all I want and need at the moment. I don't see the need for too many pixels.
Do you find it difficult to resist the temptation to buy the latest equipment?
No way. I buy mine on a budget. I haven't worked since I was 54 as I fell off a ladder at work. I suffered a collapsed vertebrae in my back which is now giving me a lot of trouble.
Do you have a particular number of genres that you favour and concentrate on?
Nature photography because it makes you think. I also like to photograph old buildings, churches, castles, steam trains, landscapes, flowers and portraits.
Is there just one favourite photograph that you have taken which you are really proud of and why?
I have taken thousands of nature photographs but there in no particular one that I would pick out.

Have there been any amusing or memorable incidents when taking photographs?
Many years ago, Mick Wilkes and I went to Wales looking for Red Kites which were quite scarce at that time. We went to Tregaron Bog where we met with the local farmer. We struck up a friendship with him. We took a photo of his wife's dogs and also copied a picture of his landlord's favourite prize bull. It turned out that the bull picture was the original and the owner didn't have one as good at his one.
On our next visit we took a framed print of the dogs and the bull as gifts to him and his wife. They were delighted. Subsequently we met with the land owner who appreciated the bull photo and he gave us access to the bog and surrounding area. We made a lot of friends in that area and it was a wonderful privilege and experience. You can meet some really nice people when taking photographs.
Is there a difficult image that you would still like to capture?
One day a rare Wryneck came down to feed on the rockery in my back garden. I sadly didn't have my camera with me and I was frightened to move in case I startled it. Nobody believed me. Low and behold it has happened again and still I didn't have my camera.
Have you made a start to work towards obtaining photographic awards and distinctions?
I have no desire to get any and cost is a factor. I just don't think it would help me.
Did anyone help and influence you on the way to attaining your goals?
Mick Wilkes has and he and I have made a good pair over the years.
Are there any tips you can pass on to members considering starting on nature photography?
You can do worse than read my tips on the BPS web site Nature Group page.
What computer, monitor and editing software do you use?
I have been using computers for over 15 years. I have 3 Windows PC's, 2 Laptops, 3 Tablets and 3 Monitors.
I use Adobe Photoshop 2,3,4 and 5 and Elements 7,9,13 and 15. I also dabble in Paintshop Pro, Corel Draw and a few others.
Do you do your own printing, if so what printer do you use?
Yes. I have a Canon PIXMA 6550. If the print head fails I know that I can get a replacement.
I have an Epson 6500 Scanner which can be used for images, slides and negatives.
What was the best picture you failed to get and why?
See the Wryneck above.
If you were a professional photographer for a day, who/what and where would you like to photograph?
If I was still fit I would like to do the rainforest in Trinidad & Tobago. I would also like to see the Galapagos Islands and the mountains in Peru. There is a lot of interesting nature in all these places.
What do people say about photography that makes your hackles rise?
People who profess to be nature photographers but in fact they know very little except how to commercially make money from what they do.
What piece of photographic wisdom would you like to share with BPS members?
Photography is a personal thing. If you get enjoyment out of whatever you do then a successful photograph is a bonus.
Do you have a photographic philosophy that keeps you going?
Every time you go out to take photographs it is different and you should make the most of it.
End