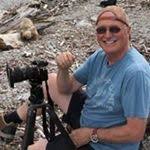 Winner of the
Urban Landscape Award, USA Landscape Photographer of the Year 2014
My 18th Birthday present had to be a camera and so I set foot into the world of SLR photography with a Praktica camera and a couple of zoom lenses.
I embarked upon a career as a teacher of Geography and Geology and photography remained my main pursuit in my leisure time. My love for travel and my knowledge and appreciation of the natural environment, enhanced my picture taking experiences.
From the outset I concentrated on landscape and travel photography, but I also enjoyed getting involved with other diverse subject matters such as sport, other forms of action photography, birds and nature, abstracts and detail photography.
Also, I have a strong interest in military aircraft and have photographed them for thirty plus years across four continents.
Half of our loft was converted into a darkroom and I learned how to make my own prints in both black and white and colour. I particularly enjoyed making large Cibachrome prints from my growing collection of Fuji Velvia and Kodachrome slides.
In 2002 I went digital and also began to put more time into nature photography.
I launched this site to coincide with my retirement to the English Lake District. A priority for me now is to photograph the beauty of this area throughout the seasons and to add portfolios of travel photography images collected as I explore other beautiful and interesting parts of the World.
During the last thirteen years I have been able to devote most of my time to photography and I have set myself various targets and goals.
My work has been exhibited by a number of Galleries in the Lake District area and I have sold framed and mounted images both through these outlets and via this website, both home and abroad.
I have entered and had some success with photographic competitions in leading national photographic magazines, in local institutions and recently at international level.
I was running Landscape Photography Workshops in the Lakes area for over nine years. I also ran Post-Processing Tutorial sessions from my home studio. These sessions were the most enjoyable activities for me and marked a return to teaching which I always loved. I retired from these activities in November 2017.
Also in the last nine years I have made links with a number of Camera Clubs and Photographic Societies. I am giving Guest Speaker Presentations to more than thirty Institutions in Cumbria, Lancashire, Yorkshire, Greater Manchester and the West Midlands. At these institutions I am also providing instructive sessions in the use of Lightroom and Photoshop and I have judged Competitions for prints and PDI's.
In recent years I have become involved with The Landscape Trust and AONB for Arnside and Silverdale. I have given talks and conducted fieldwork sessions on how to photograph the area and further afield, take successful Kent Estuary sunset images.
Most importantly, I still have enough time to devote to my own image making and I still love every minute of it!
You can find more information on my web site along with galleries of my images and how to contact me.
www.adrianalmondphotography.com