Learn to Understand Judges and Yourself
An encouraging message to newcomers about dealing with disappointments in competitions
By Jenny Webster GMPSA EFIAP/G DPAGB SPSA BPE4* ARPS
I really want to encourage you all to learn to understand yourself as much as the competition judges that you are submitting your images to. I hope that if you take just one thing from this short note, it should be that if you believe in an image, stay with it. I do, and it has worked for me.
I suppose I'm one of the hardest ones to please regarding judging images. I can often find some strange things about other people's images and do wonder sometimes. However, the reason for writing this note is to say that we can think too hard. If you love an image and it pleases you, even though there may be many negative aspects, please do have some faith in it and take it as far as you can.
Experiment by placing your chosen image on the worldwide stage by entering international competitions. Believe in it and see where it goes. I know for a fact through my own experience, that if I had not been this way inclined, I would not have achieved anything like the success that I have and still enjoy. I have an example at the end of this note.
This belief applies especially to club competitions where the circuit judges study the images for a long time, almost talk themselves in and out of the image, making us feel the image is not good enough. Then hear that inexplicably the image has gone on to win awards and medals in worldwide competitions.
Remember, it is YOU and only YOU who is the one most important person to love your image, everyone else comes next.
It is important to understand that I am not saying club judging is to be ignored. The judges will give many helpful ideas and suggest ways to improve an image. This is all great and valuable help and I do strongly recommend that you take on board everything the judge says. Balance this with your strong feeling about the image, when reflecting on the judge's final decision.
I hope this note will provide you with more encouragement to become strong and confident, about your images and get them seen by a worldwide audience, not just those in Bromsgrove.
I'm playing with images all the time. Some work, some don't. Some I am not sure of, so I put them into Internationals to see what others think.
The following is an actual example of my own experience.
My image 'A Leap of Faith' is one where I don't intend to alter anything. It is doing very well on its own. If it's not broken don't fix it. However, if I placed it into a club competition I'm absolutely confident that it would not get anywhere.
So I accept club competition is entirely different to worldwide competitions. In my case, my heart lies solely with the latter but I acknowledge that there is much to be gained from both.
Just look what you can do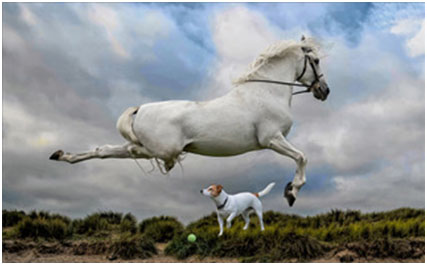 This composite image is just one of them. I realised he had a bridle and reins on but I thought 'oh well I will give it a go'.
The dog picture was taken at a polo match, the beach is in Northumberland and the horse is a Spanish Lipizzaner.
The horse is performing a capriole a jump in mid air. In real life the dog would not stand a chance. This image has captured many a judge's heart despite being a made up image of an unreal scenario. It was amazing fun to do and it gives me untold pleasure to know judges liked it.
I hope it shows everyone how nice it can be to make an image from multiple images and make it into one that many people will see and appreciate.
Then a letter like this comes along and the sense of pride that you feel.
Dear Ma'am
We have selected the attached photograph of yours for the print exhibition of RGB-2020 International Salon of Photography.
Request you to send a high-resolution file of the attached photograph by 7th February, 2021.
File size: 3600 x 5400 pixels at 300dpi.
Please do not add any border/logo/watermark & shorter side needs to be 3600pixels.
Please note that we didn't receive the Gallery confirmation yet due to COVID restrictions at Chennai. We will let you know the gallery address & exhibition dates as soon as we receive the gallery confirmation.
Yours truly,
Sadiqur Rahman
Chairman: RGB-2020