The BPS Interview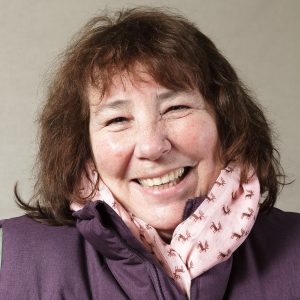 Jenny Webster
25th May 2017
What is/was your full time occupation?
I spent a number of years as a pub landlady. During that time I specialised as the chef providing very good food. 20 years ago I changed track and built my own purpose built high end Cattery.
When did you first become interested in photography?
It was when I was about 18 and followed my dad who was a keen photographer. I just took photos. I didn't do any developing etc. Dad had a darkroom and in there he developed monochrome, colour and slides.
Is there a photographer that inspired and influenced you and you would have liked to have been able to spend a day with?
There is now. In January 2017 I was fortunate to be able to visit Antarctica. We followed the Ernest Shackleton route where his photographer at the time was a man called Frank Hurley. We learned a lot about the conditions that they worked under. Hurley accomplished incredible images for the period under extremely difficult circumstances. He is my hero.
Is there one photograph by anyone in the past that you especially admire?
It has to be this most famous image that Frank Hurley took.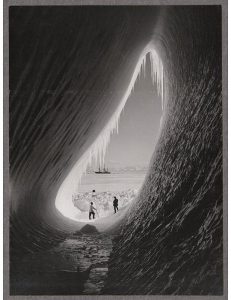 What was your first camera and how did you come to buy it?
It was a second hand Fuji film camera when I was about 25. I wanted to become independent of Dad's equipment. I then went onto video for a long time. I have only returned to still pictures in the past 5 years.
Which camera have you owned that you have a special affection for?
This would be my present camera which is a Canon 5D Mk. III.
What is your current camera(s) and lens(es) set up and how long have you had it?
The 5D of course and lots of Canon lenses, mostly second hand.
What is your typical kit set up for a day out?
The 5D with an appropriate telephoto lens, 1.4 and 2x lens extenders, a small Olympus MD 5 Mk II with a wide angle lens, spare batteries and SD cards and one of two tripods, a heavy and a light one, to suit the circumstances.
What camera would you currently like to own if it was possible?
I would like to try the top of the range Canon 1D to see how good it really is or filing that, the new 5D Mk IV.
Do you find it difficult to resist the temptation to buy the latest equipment?
Yes, I do like photographic equipment. However, I have now reached the point where I need to justify the usage of what I already have.
Do you have a particular number of genres that you favour and concentrate on?
It's Nature (animals), out of a studio portraits and some street photography. I will not say I won't try anything as I find it all such a challenge and will actually try anything.
Is there just one favourite photograph that you have taken which you are really proud of and why?
I have few really that I'm proud of but there is a recent one that has done well for me. It's the Lion dragging a carcass.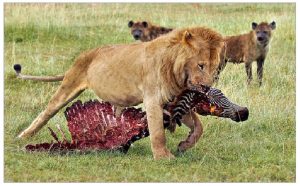 Have there been any amusing or memorable incidents when taking photographs?I can think of two.
When I went to the Cairngorms with Julie Hall, Julie and the other photographers on the trip were lying down in the snow but I couldn't join them due to the condition of my knees. I couldn't help but laugh out loud at the sight of all their bottoms sticking up out of the snow.
The other occasion was when I was in the wild in Africa and witnessed the distressing scene of a Hyena kill. Nearby on the sidelines there were three Lions watching what was going on. One female Hyena took a piece of meat and ran off with it straight into the place where the three Lions were waiting. When she suddenly realised her predicament she screamed out very loudly and jumped vertically high into the air. She managed to get away with it and it was so funny to see and the whole party I was with were laughing including the driver.
Is there a difficult image that you would still like to capture?
I'm always striving to get a better picture. It is a probably a nature picture that is perfect in every way. It's out there somewhere.
What made you start to work towards obtaining photographic awards and distinctions?
I really wanted to know if I was going in the right direction with my photography. I wanted to have a positive channel so that I knew that what I was doing was right. Sometimes I would come away from a competition night wondering why my pictures were not liked by the judges. I am much more confident now.
Did anyone help and influence you on the way to attaining your goals?
Colin Close has been a great mentor as has Adrian Butt. I have found that in the Society, you only have to ask and all the members are very helpful.
Are there any tips you can pass on to members considering starting on the path to an award?
If you believe in a picture, then go for it. Sometimes, even if you have to tweak it a bit, do it to see if it works.
What computer, monitor and editing software do you use?
I have an iMac, a Macbook Pro laptop, Photoshop and Lightroom.
Do you do your own printing, if so what printer do you use?
Yes I do up to A3 size. I use a Canon PIXMA Pro-1. It is very expensive to run.
What was the best picture you failed to get and why?
There were two Woodpeckers fighting in a tree, one red, the other green. It was really dark and my shutter speed was too slow and by the time I had made some camera adjustments, it was all over.
If you were a professional photographer for a day, who/what and where would you like to photograph?
Some sort of nature shoot, probably in a hide in the UK, and watch and record behaviors.
What do people say about photography that makes your hackles rise?
For me it's not what they say, it's what they do. It's those who hold iPads up in the air to take shots with no thought for those behind them and the difficulties they are creating preventing others seeing what is going on.
What piece of photographic wisdom would you like to share with BPS members?
I'm still learning but if you are enjoying what you are doing, stick with it.
Do you have a photographic philosophy that keeps you going?
Be totally open minded. Look at other people's work and see what you can do. Be ready to change and embrace new things.
End