Hi Everyone
Well here we are in February when normally nature photography is beginning to get going again, so I have decided to write the blog as if we were not locked down in Covid-19. Instead I'm treating this blog as a record for future years when life will hopefully allow us to get out and search for nature in a far less constrained way.
February if mild like now usually means that the birds and mammals start to think about breeding. They are busy finding and clearing old nests, and really at this time they start to look at their very finest. So it's always a good time to photograph birds.
The lakes will have a lot of active birdlife including migrating birds coming over to breed. This is early but not impossible. Each year it starts to happen earlier and earlier.
My absolute favourites at this time of year are the Brown Hares. They can be seen in Worcestershire but they are minimal sightings. In Leicestershire and upwards they can be seen and also Northampton, Norfolk and Suffolk. Anglesey in Wales is a prime Hare photography hotspot. Basically, anywhere where the land is flat.
Understanding the Hare helps in the photography. The female is out to get the best and fastest male Hare to father her leverets. The female can have up to 6 or more males following her, but they do not mate with her until she checks them out. They can all sit in a area of land quietly for ages then suddenly one hare just moves and all hell lets loose, they scatter run jump leap and yes they box. To be present and to see this spectacle is magical and unforgettable. As a photographer you get to study their movements and hopefully recognise when a box is coming they don't last long and the adrenaline is high while it is going on. You need a long lens. They are wild and will run at the slightest movement as they are already on edge. They are small, so ground level photography is essential. A day's Brown Hare shooting is a test of stamina for Hare and photographer.
I believe some photographers shoot Brown Hares in Ireland. I don't know anymore about these tours but apparently they are a nuisance at the airports. Hare photography is best from Feb and March, and only then for boxing images. It is worth noting that this is a very hard time for hares and old hares do die. As with the life cycle of nature, where there is a lot of hare activity, keep an eye out for birds of prey as they are close by to tidy up.
This brings me onto another thought. Here in Wychbold, I see, on a daily basis, a pair of Buzzards who hunt from the electric wires that span a large field roughly opposite the large electrical store in Wychbold in the same area as the road/causeway down to the wildlife reserve. I know that they are on the wire but they are on the wires daily so they must be getting mice. It's worth a chance to see if they come off the wires. They are a nervous bird so be careful. Long lenses are needed. Also at the moment, if the weather is misty and heavy, the big buzzards rarely fly. Instead they perch in the trees. When I go out at the moment I always see the buzzards. This is a great time to try to capture one in the camera.
For other years this is a great time to do trips. White-tailed Eagles, Lammergeyer and Owl trips are available about now and will suit some people. I have done these and I find the more that you can do with wildlife helps you to understand just that little more about them.
Scotland is a great place to head to around this time of year. There are many amazing photographers running wonderful trips to enable you to see the fantastic diverse wildlife that Scotland has to offer.
Sometimes, with the addition of snow, the Red Squirrels are usually hide work enabling you to get awesome images and helping the squirrels survive with the feeding of hazelnut, so a win, win situation.
The Crested Tit is a wonderful sight found only in Scotland as are Mountain Hares, while in Winter plumage. Sometimes we have to travel to see the wildlife because even if we stay just in our own area we have to remember that different species thrive in other areas of the UK.
I hope these small suggestions encourage some of you to search for nature. Don't forget the wonderful flowers about to brighten up our world and the early nut trees producing foliage and young early leaves that may just start at the end of the month.
Keep strong everyone, inoculations are just around the corner.
Jenny Webster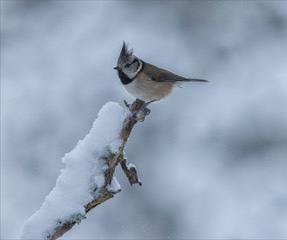 Crested Tit native to Scotland